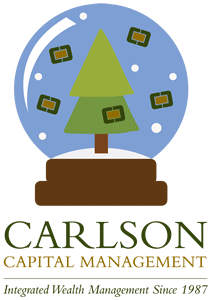 All of us at Carlson Capital Management want to thank you for again responding with such enthusiasm to our annual holiday card. We heard from a record number of clients this year totaling nearly 400 responses. We appreciate the time you took to respond and are delighted to follow the time and support you give to organizations you care about with these monetary contributions.
$10,000 is being sent in contributions of $1,000 each to the ten organizations drawn from the responses we received from you. Those organizations, thoughtfully submitted by clients, include:
American Refugee Committee, Minneapolis, MN
Ascension Catholic School, Minneapolis, MN
CARE,  Atlanta, GA
Covenant House, New York, NY
Des Moines Metro Opera, Des Moines, IA
English Learning Center, Minneapolis, MN
Medford Education Foundation, Medford, WI
Minnesota Life College Richfield, MN
Second Harvest Heartland, St. Paul, MN
Sharing & Caring Hands, Minneapolis, MN
Thank you so much for your participation.
-The Team at Carlson Capital Management