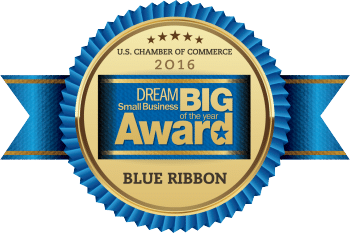 U.S. Chamber of Commerce Names Carlson Capital Management
Among Nation's Top 100 Small Businesses
Award Winners Honored at Annual Small Business Summit
Northfield, MINN. (February 18, 2016) – Carlson Capital Management is pleased to announce the firm has been named to the U.S. Chamber of Commerce top 100 small businesses in the country for its annual Dream Big Blue Ribbon Small Business Award.
The award is one of the highest honors given annually by the U.S. Chamber of Commerce and recognizes businesses for exceptional, innovative business practices. Winners were selected from a record number of applicants from communities across the nation. They were judged in four key categories: strategic planning, employee development, customer service, and community involvement.
"We are honored to receive this recognition and want to acknowledge the dedication and daily contributions of our colleagues in putting our clients' best interests first and being committed to the communities we serve," said co-founder Greg Carlson. "Our long-term visionary plan places colleagues at the center of our success. As a personal service business, nothing distinguishes value more than having experienced, caring and wise colleagues who deliver consistently excellent levels of service to the client."
An important milestone on January 1, 2016 turned CCM from family-owned to an employee-owned firm, moving from three shareholders to 40. While not the first Registered Investment Advisor firm to extend ownership to employees, it is believed that CCM is one of a handful of independent wealth management firms in the country to take this step.
"Small businesses across America today face more economic and regulatory hurdles than ever before, but each of these outstanding companies is rising to the challenge," said U.S. Chamber President and CEO Thomas J. Donohue. "These Blue Ribbon Award winners have worked hard, taken risks, and achieved success, helping strengthen their communities and local economies."
A complete list of this year's Blue Ribbon Small Business Award winners is available here.
On March 9, the Chamber will announce seven regional finalists from among this year's Blue Ribbon Small Business Award winners. All of this year's winners will be honored at the 12th annual America's Small Business Summit, which takes place June 13-15 in Washington, D.C. During the summit, one regional finalist will receive the DREAM BIG Small Business of the Year Award, sponsored by Sam's Club, and a $10,000 cash prize courtesy of the U.S. Chamber.