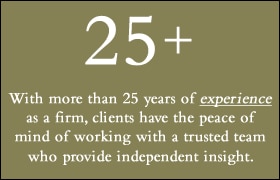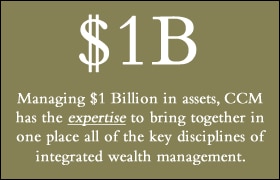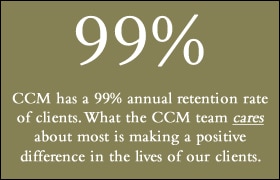 Carlson Capital Management Achieves One Billion AUM Mark,
Using Client-Centric Growth Strategy
Minneapolis, MN – June 12th, 2013 – Carlson Capital Management, one of the ZAG (Zero-Alpha Group) member firms, has reached and surpassed the $1 billion milestone for assets under management. The firm has achieved this by relying on the principle of comprehensive client service, acting as the one partner clients need for management of their entire integrated wealth plan. There has not been a proactive M&A plan, – simply growth fueled by client sentiment and a commitment to a holistic care experience on par with the approach utilized by the nation's best medical practitioners.
By managing everything from clients' investment portfolios, to their financial plan, estate and philanthropic planning and taxes, Carlson Capital Management has proven to itself and to clients that the foundation of its success as an advisory business is grounded in the integrated platform. A majority of the firm's clients entrust them with all of their net worth rather than a partial share. The firm believes that this is a testimony to its strength of commitment to delivering true integration. The firm's core tenets of experience, expertise and care permeate every aspect of the firm's activities and this dedication to principle has led to a client retention rate of more than 99% annually.
"Our growth platform is what you might call organic – it is driven by our clients and professional advisors who validate their experience with us by referring others in." says Greg Carlson, CEO and Co-founder. "And this organic growth happens with intention and purpose, and is client-centric. The growth we're experiencing drives us toward more innovation, leading edge technologies, deeper levels of expertise and multi-faceted planning experiences, and the beauty of it is that our clients are leading us there."
While the firm has been known for its application of best-in-class technologies, it is focused squarely on delivering a personalized experience for clients, rather than deploying a "model" for growth by acquisition or other means – which makes it relatively rare by large RIA standards these days.
"My brother is a physician", Carlson continues, "And he asks me, rhetorically, 'why do you want to grow'? To which he then responds: 'because you know people need what you provide.' So we grow with the intention of helping more people, and we grow with the client in mind. Perhaps this is not how RIA firms achieve stratospheric growth, but we will not compromise our depth of care for growth's sake."
With a look to the future, Carlson Capital Management has played a vital role in developing and implementing the ZAG learning programs for advisor and staff collaboration forums and leadership training. The firm is an adherent to "passive" investing, and subscribes to the DFA style of investment management.
Carlson Capital Management puts itself through a voluntary audit every year to ensure that its processes and practices are at the very pinnacle of best fiduciary practices in the industry.
Press Contacts: FiComm Partners, Jason Lahita, 973-460-7837, jason.lahita@ficommpartners.com
# # #