One of the most meaningful gifts a young person can receive as they strike out on their own after high school is wise counsel on financial matters. As a new school year begins, we wanted to share the following guidelines and important actions to help young adults in our clients' lives to build a strong foundation and get a sound start on their financial journey.
Avoid Consumer Debt and Be Careful With Student Loans
The fastest way to financial success is to avoid debt, because not having credit card, car, and large student loan payments allows young people to start building a strong financial foundation more quickly during or after completing their education.

Consider using cash, debit cards, or pre-paid debit cards instead of credit cards. As tempting as it may be to obtain credit cards to earn rewards such as airline miles or cash back, avoid this trap. Many young people have found themselves paying interest that far exceeds the benefits of the rewards on purchases. Also try to avoid financing purchases that depreciate in value. Since vehicles fall into this category, it's ideal to save up and pay cash for a used car.
Reduce the burden of high student loan debt by carefully considering ways to minimize education costs and get aid to cover necessary expenses. If debt is incurred, it is important that borrowed funds be only used for education expenses (not, for example, general living, travel-related and entertainment expenses).

Some considerations include:
• Exploring all scholarship, grant, and work/study options
• Considering side business ideas
• Learning about tuition reimbursement options
• Carefully considering an education commensurate with your future career goals
For more on this topic, a wonderful book and gift idea for college students looking for practical advice is, "The Graduate Survival Guide: 5 Mistakes you Can't Afford to Make in College," by Anthony O'Neal and Rachel Cruze.
---
Establish a Budget, Stick to that Budget, and Pay Yourself First
In addition to avoiding debt, establishing prudent spending and savings habits is vital to long-term financial success. Regardless of career choice or earning potential, those who master spending less than they earn and investing the excess, have the potential to build wealth.
Some excellent online budgeting tools to help individuals track spending can be found at: mint.com, personalcapital.com, YNAB.com, and everydollar.com. All of these tools offer a user-friendly, free app, as well as multiple features for managing individual finances.
Equally important to budgeting is establishing the discipline of saving and a concept called "pay yourself first." Paying yourself first means prioritizing saving and investing dollars for the future ahead of non-essential current expenses. The power of compound growth over a long-time horizon is remarkable. The growth projections of someone starting to save in their 20s compared with someone who doesn't start until their mid-30s is staggering. The illustration below demonstrates this, which assumes each saver contributes $10,000 annually and investments earn 6% annually.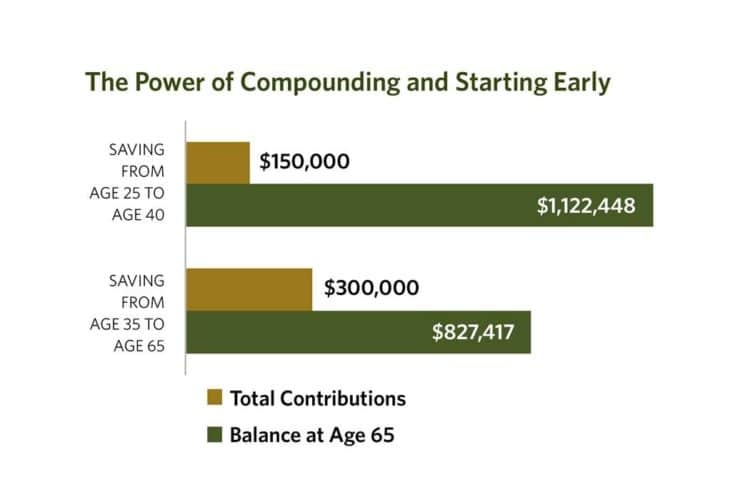 One option for establishing a solid long-term savings vehicle is to save funds in a Roth IRA. Roth IRAs allow individuals to save for retirement at any age in the most tax-advantaged way (tax is paid in the contribution year and there is zero tax on the growth during the investor's lifetime and/or their beneficiary's lifetime). CCM advisors can provide assistance in deciding if this is right for you. (Note, for example, that there are penalties for early withdrawal.)
Another important priority is to establish an emergency fund. Many experts recommend this fund be equivalent to six months of living expenses. An emergency fund is just that – dollars reserved for an emergency. It may sound daunting on a college student's budget, but saving here and there can really add up. Saving should be done in a completely separate account from day-to-day expense accounts to avoid the temptation of paying for non-emergency expenses with these funds (for example, a vacation or new furniture).
---
Execute Essential Legal Documents
It's important to understand that when individuals turn 18, their parents or guardians legally no longer have access to, or control over, their child's financial, medical, and education information. When the unexpected happens, having a plan will help alleviate stress. If, for example, a college athlete were to get a serious concussion and parents needed to make important medical decisions, they would need key documents in place in order to do so. It is critical to have the following legal documents drafted and executed by an attorney, so a trusted person can step in in case of incapacity.
Living Will: Also referred to as an advanced or health care directive, this document outlines preferences regarding treatment if a person faces a serious medical situation. It lists the types of medical treatments approved to be used or not, such as mechanical breathing, tube feeding, resuscitation, and other measures to sustain life. Having this document in place, at any age, is a wonderful gift for loved ones because it serves as a guide for them if these difficult decisions need to be made.
Medical/Health Care Power of Attorney: This designation is often combined with a living will, and it allows an individual to act on behalf of another person to make medical decisions in the event of incapacity. As a health care agent, this individual is only authorized to make medical decisions, not financial.
Durable Financial Power of Attorney: This document allows an individual to act on someone's behalf to make financial decisions in the event that person is unable to do so during their lifetime.
---
Review Insurance Coverage
Property and Casualty Insurance: We recommend young adults consider a formal review of their personal insurance with an insurance professional to determine whether it makes sense to obtain their own automobile coverage and evaluate the need for an umbrella policy. Also, renters should purchase renter's insurance. Even if there are no highly valuable items that would need to be replaced if damaged or stolen, renter's insurance can limit the renter's liability in the event someone else is injured in the apartment or someone's personal property is damaged and that person sues. Coverage is typically inexpensive. Children living in dorms or at home are often covered under their parents' umbrella or homeowner's insurance, but a thorough personal insurance review is highly recommended at this stage in a young person's life.
Life Insurance: Keep in mind that life insurance, in general, gets more expensive with age. Term life insurance for a young, healthy person is fairly inexpensive, so that is typically the first step when there is an insurable need. An insurable need often overlooked is the recommendation that parents co-signing loans for children consider obtaining coverage on the child so that these obligations would be covered should the child die before the loan is paid. Insurance needs should be evaluated at major life events such as purchasing a home, getting married, or having children.
Review Income Tax Filing Status: While adults living at home or away at college may remain a dependent for income tax purposes (so long as someone else is responsible for more than 50% of their support), a tax advisor should always be consulted on filing options. When adults have earned income exceeding a certain amount, they will need to file an individual tax return to report that income as well.
Establishing good financial habits early in life, and having important documents in place to help in the case of unexpected events, can create a solid path toward financial independence and future success. If this overview provided as many questions as it did answers, your Carlson Capital Management Advisor would be happy to help. If you don't currently work with an advisor at CCM and would like to learn more, please contact us for a conversation.
---
This post was written by a member of the CCM Women's Initiative, which strives to promote the financial empowerment of women. For more information about our Initiative, please contact Callie Geist, CFP®, J.D., MBA, Integrated Wealth Advisor.
For related articles see:
The Power of Budgeting
Five Key Estate Planning Matters to Consider Annually
Financial Lessons and Key Discussions with Children and Grandchildren