For nearly 20 years, I've had the privilege of working with clients to create financial plans that are designed to help them achieve their life goals. In this time, I have found that experience is the greatest teacher. I have learned so much by going through multiple market cycles and working with a wide variety of individuals and families, each with their unique set of circumstances. Periods marked by significant market volatility and economic uncertainty, most especially the Global Financial Crisis, provided me with experience and tools to help guide clients through challenging times in the markets. Similarly, almost 20 years of walking alongside many families through life's events has given me the ability to learn from each of those experiences and apply those learnings to assist other clients.
As I reflect on how experience anchors me in advising the clients I work with, I think about another chapter in my life that provided me with invaluable insight and wisdom. It also relates to how our team at CCM is providing counsel to clients through challenging times, such as what we're all experiencing now. I am a graduate of the U.S. Coast Guard Academy and was an officer in the U.S. Coast Guard prior to becoming a financial advisor. While on my first shipboard assignment after graduation, there were many times where I was assigned to be the Officer of the Deck (OOD). In essence, I was steering the ship and had full responsibility for keeping the ship and our crew safe, while carrying out our assigned mission. Frequently, I
was commanding the ship at night in the total darkness and fog of Lake Superior.
When other vessels were far away on the horizon, running at full speed, it was difficult to ascertain their direction by just looking at their running lights. Fortunately, we had radars and other sophisticated equipment on board to help identify what was in front of us. Even then, it was very easy to "lose the big picture" of what was going on. Especially when there were multiple vessels on the radar screen going different directions and speeds amongst the chaos of all the other decisions I was needing to make in furtherance of our mission. Losing the big picture in this type of role was very easy to do and meant lives could be lost.
Unforgettable Advice
During my training, I received an important piece of advice from one of my senior commanding officers. He said, "When you are up here on the bridge, you have all of our lives in your hands with your decision making. If you don't have a clear picture of what is going on visually or on the radar, slow our ship down. It is amazing how that one act, alone, can give you the clarity you need to make the right decisions and keep everyone safe."
It was during this training that my senior commanding officer was reminding me that there are some things that we can control during times of uncertainty, and it is those things on which we should focus. At CCM, we
constantly focus on areas we can control with our clients, such as asset allocation, diversification, proactive financial planning, tax efficiency, and discipline, to name a few.
Things We Can Control
Given these unprecedented times, some of the ways you can "slow the ship down" while we get better optics into the future, include the following:
Evaluate Spending.
Consider reducing the draw on your portfolio—that is, spending. It is always prudent to review spending to make sure it is consistent with your values, priorities, sense of stewardship, and goals. Additionally, keep in mind that any dollar not spent can participate in future growth.
Spending is the "a" variable in the Wealth Equation.© As we manage your bucket of wealth, we are cognizant of the fact that having enough money for your short-term needs as well as long-term goals and throughout the span of your life, is a very important, if not the most important, objective. If you manage your expenses with a budget, you have ready access to a tool to help determine which levers you can pull to adjust spending. If you don't use a budget, a spending rate of 3-4% of your portfolio continues to be a reliable benchmark.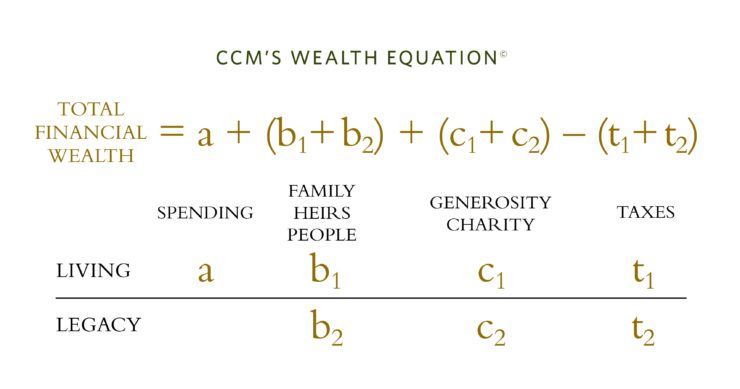 Stay Disciplined.
In addition to evaluating spending, recognize that staying disciplined is in your control. That is, staying committed to your financial plan and your asset allocations. While we may be managing this with you, your commitment to this is what matters the most. As we shared earlier, CCM clients collectively have stayed very, very disciplined through the present market volatility. This is highly commendable as it is not easy to do, but it is a key to long-term success.
Focus on Time, Not Timing.
While trying to time the markets becomes very tempting in times like this, when we slow the ship down, we're reminded that for long-term investing success we need to focus on time, not timing. This applies to other things in life right now as well, including making major decisions. It's okay to put things on pause as this pandemic unfolds, ultimately passes, and creates an altered landscape. Use the time to reflect versus act. Think about the longer arc of time versus the short.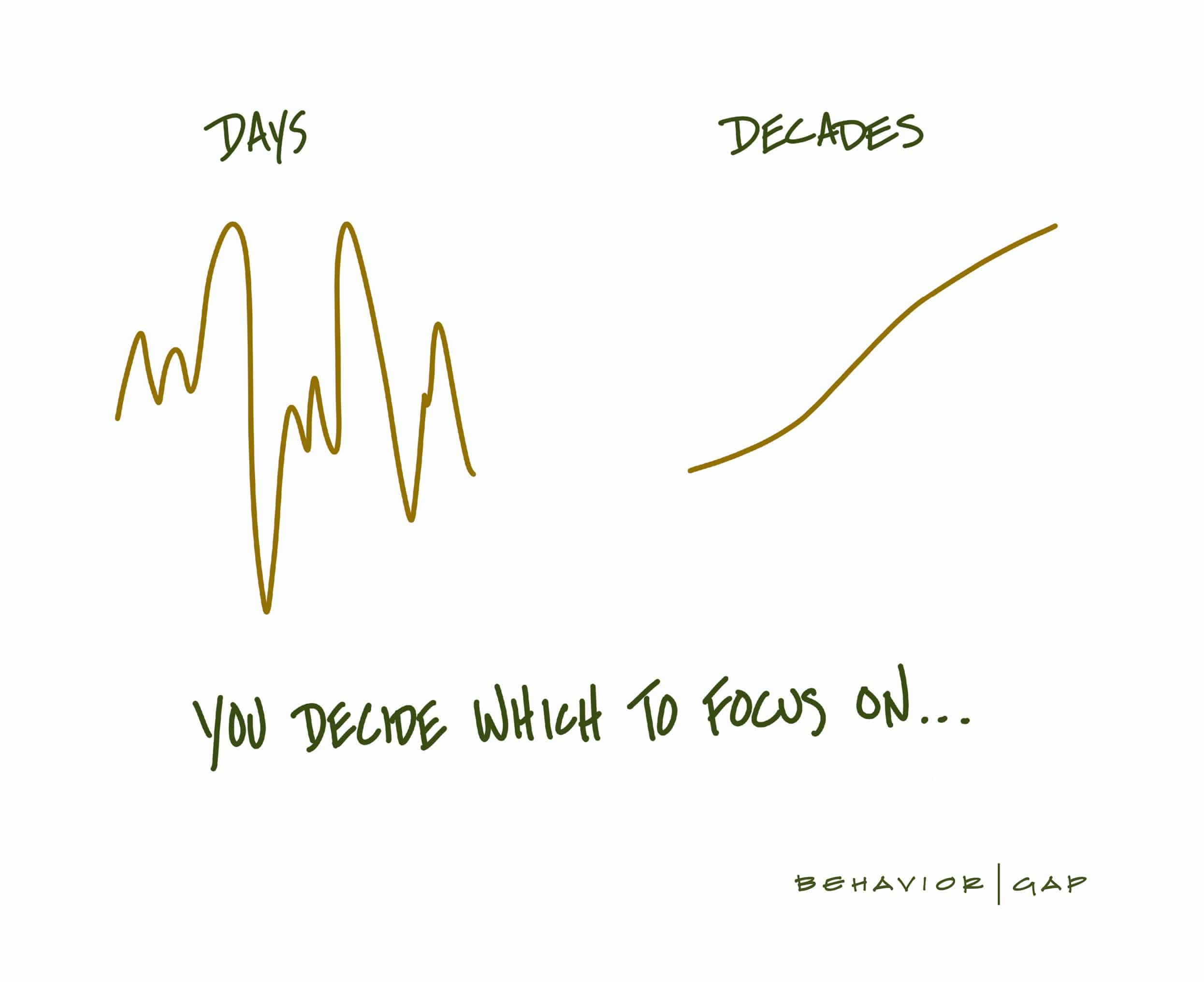 All of us at CCM are here to help you navigate through both the calm and the choppy waters. We'll always apply our experience to your situation to the best of our abilities.