Even though today's market is rebounding significantly as I write, it is still important for us to address the topic of all of the recent volatility. For global stock market investors, the news so far in 2016 has been marked by negative returns.
As even the most successful investors realize, negative stock market returns are to be expected from time to time—as often as three years out of every ten. For the US stock market, as measured by the price of the S&P 500, 2015 was the first negative year since 2008. Market pullbacks are an ordinary part of investing in riskier assets (stocks) associated with the higher expected returns that investors need in order to build wealth over their lifetimes.
However, as negative as the news has been from China and rippling through the world markets in early 2016, we are mindful that these kinds of events are nothing new, they have happened with regularity throughout market history, and they are inherently unpredictable.
As an example of how "normal" these kinds of declines are, the following chart illustrates that the US stock market alone has had 262 declines of 5% or more since 1926, and an average of more than three per year. Note too that the average number of trading days to create the decline was less than five (under one week). Because of this unpredictability, wise investors prepare by holding well-diversified portfolios appropriate to their current and future growth and liquidity requirements. An investor's growth and liquidity requirements, along with an understanding of their general tolerance for risk, is best discovered through a comprehensive planning process. This is true for both individuals and institutions.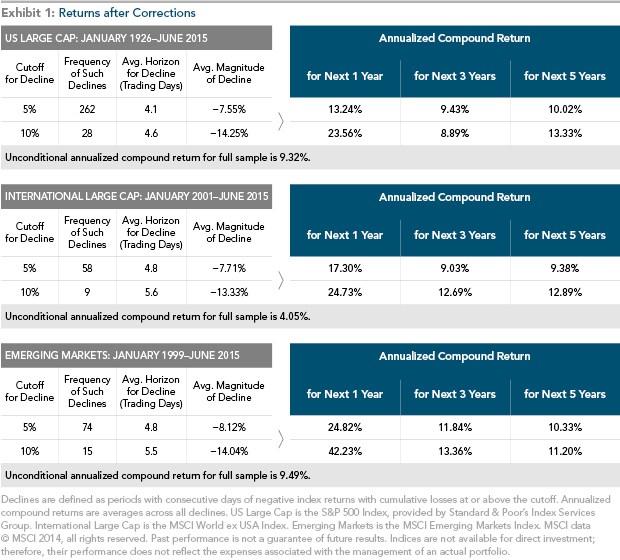 Source: Dimensional Fund Advisors 2015, dfaus.com
At CCM, we understand clearly the close relationship between planning and portfolio construction. An important example of this is how we work with each of our clients to project future cash flow requirements and build into their portfolio adequate liquidity, covering seven to ten years, or more, of projected cash flow needs.
The objective is to create a degree of protection and preservation of capital, so the growth assets in the portfolio (stocks) are not needed on a regular basis for cash flow. When stock markets are providing solidly positive returns, those holdings become great sources for meeting cash flow requirements. When those same stock markets are negative, even plunging for a period, the part of the portfolio containing short-term, high quality fixed income, provides a stable source of liquidity to meet current and future spending and lifestyle requirements.
We have been deploying this approach as a part of our planning process for over 15 years. Over time, we have refined the theory, but evidence of its practical effectiveness occurred first during the US stock market decline of 2000 through 2003, then again in 2007 and 2008 when global stock markets and even many bond markets experienced historically steep declines. CCM clients were prepared, with portfolios containing short-term, high quality bonds consisting of a variety of US Treasuries and short-term, high-quality corporate issues. These positions maintained their values in the midst of the storm and provided ready sources of liquidity for investors to draw from to meet retirement income and other immediate requirements. We continue to build client portfolios this way today, choosing to be well prepared through global diversification at all times rather than succumbing to the loser's game of trying to predict when and which stock markets will be heading up or down.
As a reminder, as bad as those stock market returns were in 2007 and 2008, a portfolio comprised of 50% S&P 500 Index and 50% Barclays US Aggregate Bond Index fully recovered in less than two years from what seemed like total catastrophe at the market bottom in March 2009.*
It's never easy to easy to go through these turbulent markets. Remember that the important work of preparation was done prior to the current environment through planning, preparation and engaging in a portfolio strategy based on robust academic research, as well as real world experience. At CCM we will continue to consistently apply these and other developing principles to your unique situations and be here to regularly meet with you to discuss and adjust the comprehensive range of financial planning considerations and related portfolio strategies that lead to your success.
*Note: This article content has been edited for CCM clients and is shared and reprinted with permission from one of our Zero Alpha Group partners, Foster Group, of West Des Moines, Iowa.
*Source: S&P 500 Index and Barclays US Aggregate Bond Index (rebalanced monthly). Past performance is no guarantee of future results. There is no guarantee an investment strategy will be successful.