If you've read more than a few of our investment updates or insights over the years, you know that focusing on the long-term is essential to CCM's investment philosophy. A myopic view of markets and returns may lead to adverse consequences for an investor's financial well-being. More often than not, this is due to an overly strong reaction to recently occurring events (that quickly reverse) or from stumbling onto what may be perceived as an easily identifiable pattern in market data. This leads one to believe they know what exists on the near term horizon (which never comes). With all of that said about the critical importance of the long-term, big picture, when monitoring portfolios for rebalancing opportunities, it's important to know that the short-term matters too.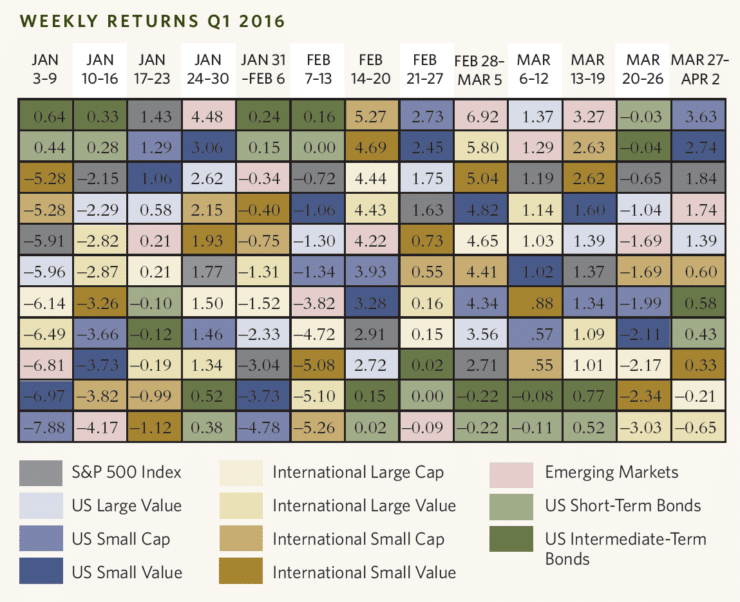 The chart above (Weekly Returns Q1 2016) is similar to one often used to illustrate what is thought of as randomness in the returns that markets provide. Alternatively, while future returns do have connections to past returns, there is no reliable way to find a pattern or strategy that consistently exploits this relationship. The patchwork quilt of returns shown by the illustration differs from the common representation in that it displays weekly returns of the various market segments rather than longer monthly or annual periods. Even in these shorter windows of time, no consistent winner emerges and no pattern presents itself, save the fact that bond returns (in green) are much more stable than stock returns. This relative imbalance of stability offers us a surefire way to take advantage of short-term ups and downs.
The goal of rebalancing a portfolio is to reduce risk by maintaining a disciplined asset allocation over time to a predetermined mix of investments, designed to maximize return for that level of risk. Said differently, rebalancing attempts to keep the portfolio's balance of risky and safe assets from drifting too far beyond an acceptable range. This is achieved by selling some assets at relatively high prices and buying others at relatively low prices, in an effort to meet your financial goals and objectives throughout your lifetime. A portfolio that owns a particular percentage of stocks and bonds at its inception that are left alone to drift up and down based solely on the returns of those assets, often develops undesirably high allocations to stocks in periods immediately prior to stretches during which stocks have well below average returns. Recent research conducted by Vanguard shows that a long-term portfolio, rebalanced quarterly, had 23% lower volatility over time when compared to one where no rebalancing was performed.1
With such a dramatic reduction of portfolio volatility, in addition to other demonstrated benefits, it's clear to see why rebalancing has become such a widely adopted strategy to control portfolio risk. Accepting the premise that rebalancing is a worthwhile pursuit in portfolio management, the question that remains is how we might best execute a prudent and reliable rebalancing strategy in the real world.
The most commonly known approach to rebalancing, and the one that can be found in most employer- sponsored retirement plans, is based on reviewing an account's allocation at the end of each quarter and buying and selling all assets back to their targeted allocation. Although these types of programs are superior to strategies that simply let assets drift, they fail to allow for any consideration to be made for how far an asset's allocation is from its target and what costs rebalancing may have in terms of trading fees or tax impact for the investor. There is also no acknowledgement in such a strategy of the potential benefit of rebalancing the portfolio on any of the previous 90 days of the quarter. The portfolio's balance is simply measured on these quarterly intervals with all of the ups and downs between these arbitrary dates completely ignored.
The varied returns of the first quarter of 2016 (illustrated below) clearly show that opportunities for rebalancing can be plentiful within a quarterly window. A strategy that leverages short-term volatility as a 'benefit' to the long-term investor can add significant value to retirement outcomes.The first quarter of 2016 was not flat, it was not without volatility, and was not without significant events that posed challenges for markets. However, if you were to only look at the At-A-Glance table in our Q1 newsletter, you may draw a conclusion opposite those facts. By only looking at the returns from the beginning of January to the end of March, you don't see wild swings, and may conclude that a simple quarterly rebalancing strategy might be more than adequate to capture the highs and lows.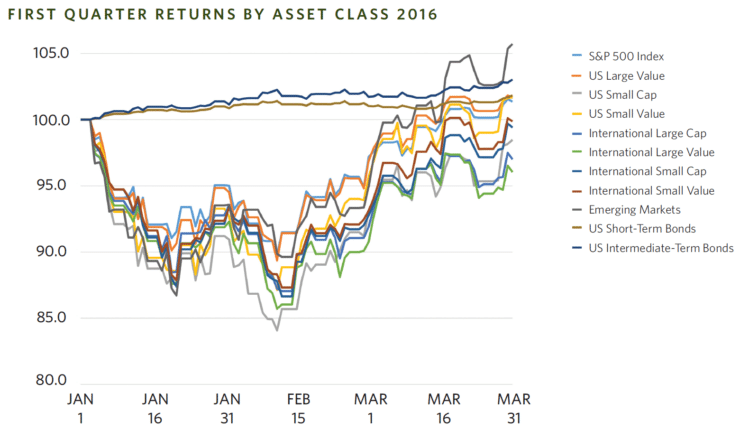 Our proactive process for monitoring and managing portfolios differs from a more traditional calendar-based approach in that we review portfolios many times each quarter looking for material imbalances.These represent opportunities for more impactful trading than what can typically occur on four arbitrary dates each year. More often than not, the asset classes in the portfolio are within acceptable ranges so no trading occurs. Other times, when prices are materially up or down, trades are placed to reposition and benefit the portfolio. A thorough review of this methodology can be found here.
By looking often, and trading only at impactful moments, we are positioned to make better trades, we save our clients the trading costs that can be charged by custodians, and we experience potential tax savings by either harvesting losses or not unnecessarily triggering gains when not valuable to their situation.
1 Vanguard, "Best practices for portfolio rebalancing," November 2015, page 9. vanguard.com
Indexes used for the chart are as follows: S&P 500 TR USD; Russell 1000 Value TR USD; Russell 2000 TR USD; Russell 2000 Value TR USD; MSCI EAFE NR USD; MSCI Value NR USD; MSCI EAFE Small Cap NR USD; MSCI Small Value NR USD; MSCI EM NR USD; Barclays US Govt/Credit 1-6Yr TR USD; Barclays US Agg Bond TR USD. Indexes are not available for direct investment; therefore, their performance does not reflect the expenses associated with the management of an actual portfolio.