Summertime fireworks came a few weeks earlier than usual this year. But instead of blues, yellows, and greens, the early fireworks were a solid red. After strong recoveries from February lows, equity markets across the globe were jolted from their upward trajectories as they priced in the result of the British referendum to leave the European Union. The reaction of markets to the news of a "Brexit" was felt far and wide with stocks around the world shedding trillions of dollars on a single trading day.
It's at this point in the Brexit story that most media outlets stopped reporting the related news. The shock value and the emotional impact has been set, and as a result, viewers or readers are likely left feeling unsettled about how this unprecedented event has affected them (or will affect them in the future). It is important to have the full context of market performance surrounding the Brexit vote in order to understand its impact on your portfolio. The short answer is that markets had very strong performance in the days leading up to the vote, and in the days after that shock was absorbed. In most cases, as of the writing of this update, major markets are at the levels they were at the week before the vote occurred. Said differently, if you had been on a remote beach vacation for the last two weeks of June and only had your portfolio statements as a guide to what had happened while you were away, you could likely have concluded that nothing much had happened in that time period. Even with the result of the referendum vote known, there still remains significant uncertainty as to the future of the United Kingdom's political and economic relationships with its European neighbors. We'll be staying tuned as the related developments and impact unfolds.
With Brexit as a backdrop, much of the media has been drawing parallels (political and economic turmoil) to the upcoming presidential election on this side of the Atlantic. In our opinion, instead of reporting the news and creating a more informed electorate, we're seeing much of the media blending news and entertainment—the effect of which can raise anxiety and fear about future uncertain outcomes of already highly charged situations.
Given the sensationalistic nature of our media today, and given the number of prognosticators who will appear on television and in the newspapers in the coming months, we thought it might be helpful to address the upcoming election and its potential impact on investment portfolios. It's only natural for voters to interpret what they read and hear on the news and wonder how it may affect their retirement.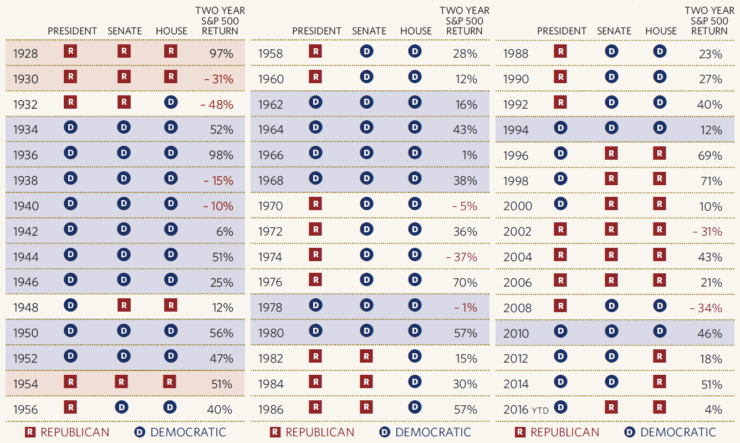 In the featured chart above, showing market performance related to presidential and congressional control, we can glean the following data:
Since 1927, the S&P 500 has generated higher returns during Democratic presidencies (15.3%) than in those periods when the Oval Office was occupied by a Republican (8.5%).
A Republican was in the Oval Office for five of the six years in which the S&P 500 lost 20% or more in one year.
There are 33 instances when the S&P 500 returned greater than 20% since 1927. Democrats held office in 20 of those periods.
The best year on record, in 1933, when the S&P 500 returned 54%, Democrats controlled the Presidency, the House of Representatives and the Senate.
Given this information, investors may be inclined to conclude that a Democratic President will drive greater equity market returns. However, we'd caution against that kind of conclusion (or the opposite, in fact). Like with most of these types of charts, there's no pattern to discover or exploit in order to generate higher returns. Even if a pattern was found, we don't have enough data to determine if this is a fact or mere coincidence. Over the past 90 years, we've only had 15 Presidents; and in the world of statistics, this just isn't enough information to draw meaningful conclusions. It's important to also understand that although it may seem like politicians drive markets, it's often the other way around.
Here's one statistic that we do believe is worthwhile and useful. The S&P 500 has generated positive rates of return in 67% of the periods where Republicans are in office and 78% of the periods where Democrats are in office. This tells us that over the long term, it pays to remain invested, regardless of which party holds the majority of seats or the Presidency.
As the political scene heats up, and media outlets look to capitalize on the entertainment factor of the election, we're reminded of how numbers can be misleading and related false conclusions can be detrimental to financial planning. We believe that a well-constructed investment portfolio that aligns with your individual financial plan, and consistently follows the principles of discipline and diversification, is your best defense against election-related and party-control impact on the markets.
NOTE: Certain portions of Carlson Capital Management's web site (i.e. newsletters, articles, commentaries, etc.) may contain a discussion of, and/or provide access to, Carlson Capital Management (and those of other investment and non-investment professionals) positions and/or recommendations as of a specific prior date. Due to various factors, including changing market conditions, such discussion may no longer be reflective of current position(s) and/or recommendation(s). Moreover, no client or prospective client should assume that any such discussion serves as the receipt of, or a substitute for, personalized advice from Carlson Capital Management, or from any other investment professional. Carlson Capital Management is neither an attorney nor an accountant, and no portion of the web site content should be interpreted as legal, accounting or tax advice. CCM Tax & Trust Administration is a wholly-owned affiliate of Carlson Capital Management that provides tax return preparation services.