For our Investment Insight this quarter, the chart featured below presents the opportunity to consider the concepts of average market returns, after-tax real returns, and needed returns, while reminding ourselves of what might otherwise seem counter-intuitive.What may be counter-intuitive to us as investors is that annual returns are almost never average. Coming out of 2015—a year in which three of four quarters were significantly positive—demonstrates how the experience we "felt" the majority of the time, was essentially neutralized by one quarter (a shorter period of time) that was negative.When we consider data as a basis for tempering and setting our potential expectations, we learn some interesting facts.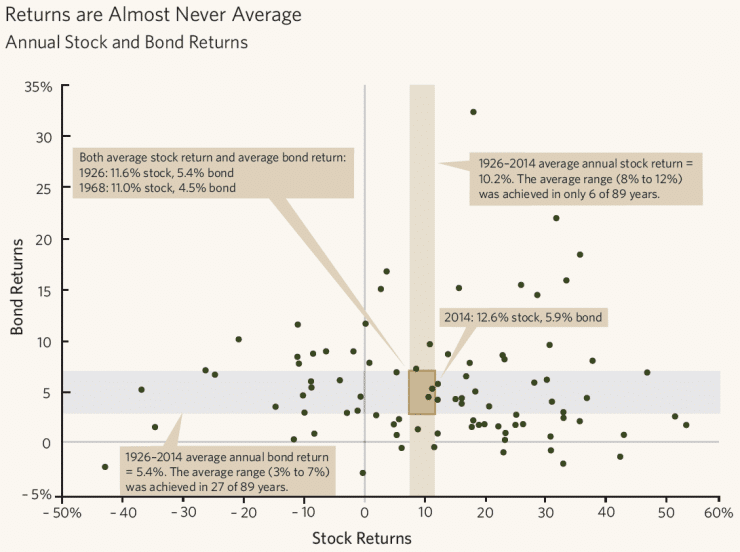 Data represents past performance. Past performance is no guarantee of future results. Chart is for illustrative purposes only. Important chart source data can be found below.
Average Market Return — the chart illustrates domestic stock market returns and fixed income bond returns for a period of 89 years through 2014.The beige shaded vertical bar shows the average range for equity returns being between 8-12%, with the average return equaling 10.2%. For bonds, the gray shaded horizontal bar shows the average range of returns being between 3-7%, with the average return equaling 5.4%.The chart demonstrates for us the key point that annual returns are almost never average. In fact, annual equity returns fall close to the average return less than 7% of the time and bond investments fall close to their average return only about a third of the time.The illustration does for us what our perceptions cannot – showing us how infrequently "average" actually occurs.
After-Tax Real Return — after-tax real return is not a very well understood term, but it is of significant importance. It incorporates the impact of inflation and taxes into the measurement of return. It is important to remember; it is not what you make, but what you keep that is critical.The concept that 'not all returns are equal' is important to understand. Returns that are taxed as long-term capital gains are more valuable than returns taxed as ordinary income – in fact, they can be upwards of 30% more valuable.That is why we are so cognizant of asset location between taxable and tax-deferred investments, tax loss harvesting, and investments with low turnover that provide tax efficiency. Inflation is another significant factor-in the early 1980's the inflation rate was in double digits – meaning if an investment return was at the "average" historical return, in real dollars one could have lost money, even with the double digit return.
Needed Return — the needed return is what one needs in order to be successful in their financial life. A well-designed, revisited financial plan, built on solid assumptions for returns and cash flow expenses, is the surest way to develop an investment strategy that provides the highest likelihood for personal success that is commensurate with an acceptable level of risk. If one reaches too far beyond what they have defined as needed, it often involves risks that can produce unacceptable outcomes in both the short and long term.
While understanding historic performance of the markets, and the trends regarding "averages," doesn't provide us any guarantees for the future, it does help us ride waves of volatility with some solid perspective. Looking back on 2015, we are reminded of the critical importance of staying disciplined and diversified. Maintaining a disciplined investment approach paired with a well-monitored financial plan helps us ensure that we capture the returns the market delivers, without taking undue risk. Understanding your own "needed" return and discussing it with your advisor will also ensure that your experience provides you with the peace of mind we strive to bring you.
Notes for chart: Represents each calendar year from 1926 to 2014 (89 points = 89 years) plotted at the intersection of that year's stock return and that year's bond return. The vertical shaded area contains all years whose stock return was between 8% and 12%.The horizontal shaded area contains all years whose bond return was between 3% and 7%. Stock returns are represented by the Standard & Poor's 90 Index from 1926 to March 3, 1957; the S&P 500 Index from March 4, 1957, through 1974; the Dow Jones Wilshire 5000 Index from 1975 to April 22, 2005; the MSCI US Broad Market Index from April 23, 2005, to June 2, 2013; and the CRSP US Total Market Index thereafter. Bond returns are represented by the S&P High Grade Corporate Index from 1926 through 1968, the Citigroup High Grade Index from 1969 through 1972, the Lehman Brothers U.S. Long Credit AA Index from 1973 through 1975, the Barclays U.S. Aggregate Bond Index from 1976 through 2009, and the Barclays U.S. Aggregate Float Adjusted Index thereafter. Source: Dimensional Fund Advisors, 2015.