It's truly time to celebrate.
With the first 60 degree day on the books, the ice melted from the now roaring Cannon River outside of our Northfield office, and the first tulips of the year struggling to force their way through the soil in my front garden, it may finally be safe to say that spring is reaching Minnesota.
Although we all knew it would eventually happen as the days grew longer and the sun shone brighter, it felt that things may be different this time. It felt as if we may never be rid of our fleece-lined boots and puffy down filled coats in exchange for short sleeved shirts and sandals.
This winter wasn't just one that felt longer, colder and snowier than most (as many a Minnesotan seems to believe), this one actually was all of those things and we have the data to prove it. With 50 days of sub-zero temperatures, including a stretch of 17 in a row, 2013-2014 was the ninth coldest winter in the recorded history of the state, and the coldest in 35 years. Not only was it cold, we also had well above average snowfall that came early in November and never seemed to go away—reaching depths not seen in the area for more than 30 years. But we knew it would come to an end; no one truly expects winter to last forever.
Another milestone worthy of celebration occurred this past quarter that has had a direct impact on your financial life. March 9th of this year marked the fifth anniversary of the bottoming out of the stock market during the Global Financial Crisis. Back in March of 2009, it felt (to many) much like how we have felt about this winter—that is that it may never end, and spring may never arrive. It felt to many investors like things might be "different this time" and that they may never be able to open account statements and see balances at levels higher than they had been before.
The chart below shows how wrong these people were. Since hitting bottom, the S&P 500 Total Return Index has grown more than 200% (when including dividends) while US small and value stocks have grown even more.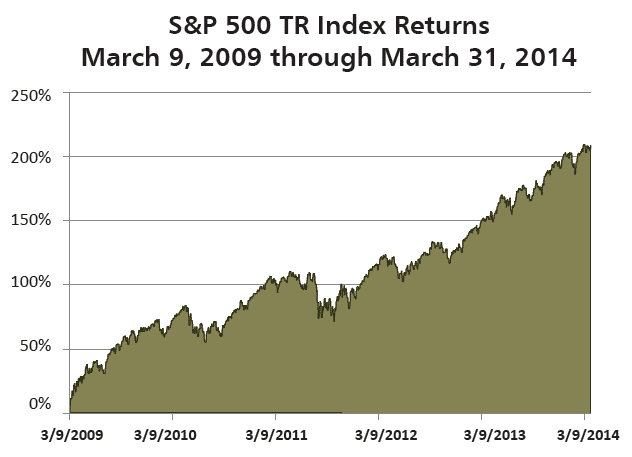 When stocks shot up more than 6% on March 10th of 2009, we now know that it was the financial version of the first 60 degree day of spring. Sadly, to most, it didn't provide the same restorative and reassuring feeling that seeing the first robin of the year can have on our winter-chilled spirits. It just felt like more volatility and uncertainty. At each step of the recovery there were concerns about its staying power and whether 'spring' was truly upon us. After five years, it's pretty clear that we're already into summer.
With the benefit of hindsight, it isn't hard to make the comparison between the ending of a long hard winter and the ending of the worst period of stock market performance that most of us have ever experienced. With five years behind us and with stock prices long since reaching new highs, we can believe that recovery was as inevitable as the arrival of spring, but we also know that most of us aren't able to think that way when we're in the midst of a crisis.
The lessons of weather and markets have many parallels. For example, there is calm and volatility. There are seasons and cycles. You can protect against them. They are not 100% predictable … and so on. And, when people take positions on what the short-term future will bring for their portfolios they're entering into the financial equivalent exercise of relying on a 10-day weather forecast. Too many variables can change to make the forecast reliable. It is clear to see (now) that those who weathered the Global Financial Crisis by staying the course, benefited from being disciplined and keeping their long-term goals in focus.
We never know in October when the last snow of the coming winter will melt away just as we didn't know exactly when the first flakes would fly when we admired new blossoms the previous spring. We do however know that both moments will come and we shouldn't be caught off guard when they do. If we prepare for each, we'll be ready for whatever comes our way.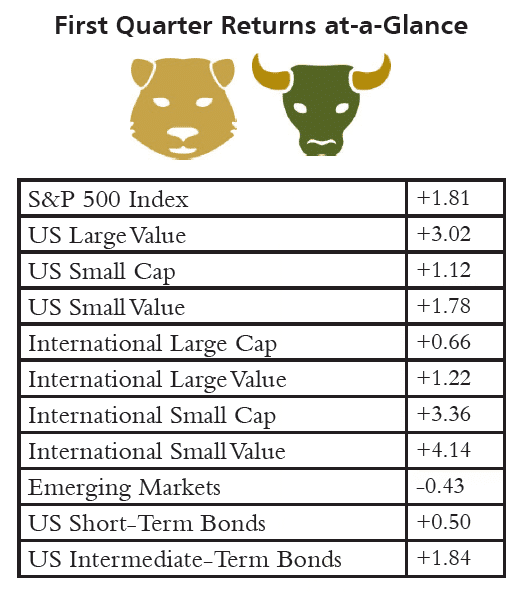 Broad US based stock market indexes finished the quarter higher than they began with value stocks outperforming growth.
After a slow start to the year and after being in negative territory until late February, all four US indexes shown above managed to reach all-time high levels in March.
International developed market stocks also finished higher with value outperforming growth and small companies far outpacing large.
Emerging market stock prices continued to struggle compared to their developed market peers and ended the quarter with a slight loss.
High quality bonds provided stability and positive returns with investors being rewarded for taking interest rate and credit risk.
The 10-year treasury yield finished the quarter at 2.72% which was down from the near 3% yields that ended 2013.
---
Indices used for the table above are as follows: S&P 500 TR USD; Russell 1000 Value TR USD; Russell 2000 TR USD; Russell 2000 Value TR USD; MSCI EAFE NR USD; MSCI Value NR USD; MSCI EAFE Small Cap NR USD; MSCI Small Value NR USD; MSCI EM NR USD; Barclays US Govt/Credit 1-6 Yr TR USD; Barclays US Agg Bond TR USD.
Please remember that past performance may not be indicative of future results. Different types of investments involve varying degrees of risk, and there can be no assurance that the future performance of any specific investment, investment strategy, or product (including the investments and/or investment strategies recommended or undertaken by Carlson Capital Management), or any non-investment related content, made reference to directly or indirectly in this newsletter will be profitable, equal any corresponding indicated historical performance level(s), be suitable for your portfolio or individual situation, or prove successful. Due to various factors, including changing market conditions and/or applicable laws, the content may no longer be reflective of current opinions or positions. Moreover, you should not assume that any discussion or information contained in this newsletter serves as the receipt of, or as a substitute for, personalized investment advice from Carlson Capital Management. To the extent that a reader has any questions regarding the applicability of any specific issue discussed above to his/her individual situation, he/she is encouraged to consult with their professional advisor. A copy of Carlson Capital Management's current written disclosure statement discussing our advisory services and fees is available upon request.