Carlson Capital Management colleagues have recently taken on the challenge of improving our collective level of fitness with a firm-wide experiment of using activity trackers to help us all better understand how we're physically engaging in our world. For those of you who aren't familiar with these devices, they are wristbands that you wear day and night that track your movements. Among other things, they act as a pedometer to measure your daily step counts and have a great feature that monitors and provides data on nightly sleep patterns. Although we do have a friendly competition within the firm about the step count data, the main goal is to raise our level of awareness about our physical well-being.
We know that "step counts" are a great direct indicator of activity in a given day and we also understand the limitations of this singular data point. The number of steps taken in a day doesn't provide a complete picture of fitness as certain types of activities (like weight training and yoga) provide great benefits to health, but don't register many steps. It's only when activity is combined with other components like a healthy diet and stress management that one starts to see a measure of total wellness emerge. In much the same way that steps are important, an investment portfolio that provides strong investment returns is foundationally important to secure your financial well-being, but its returns are not the "entire story." Let me explain.
In our January Investment Update we reemphasized the importance of setting and maintaining a strategy for your portfolio that focuses on long-term success and includes diversification across global markets. This was timely, because US stocks outperformed international stocks both in Q4 and for the calendar year. Now, three months later — looking at returns for the first quarter of 2015, we can see the positive impact of maintaining a diversified portfolio. International stock market returns provided investors with a much stronger start to 2015 than US markets. With no way of being certain when tables will turn, it makes sense to capture the benefits of staying diversified. Translated back to our fitness analogy: your portfolio is taking steps constantly all around the world, capturing returns as they occur. Your portfolio is constantly "active" and returns are foundationally important to its success…but there is more.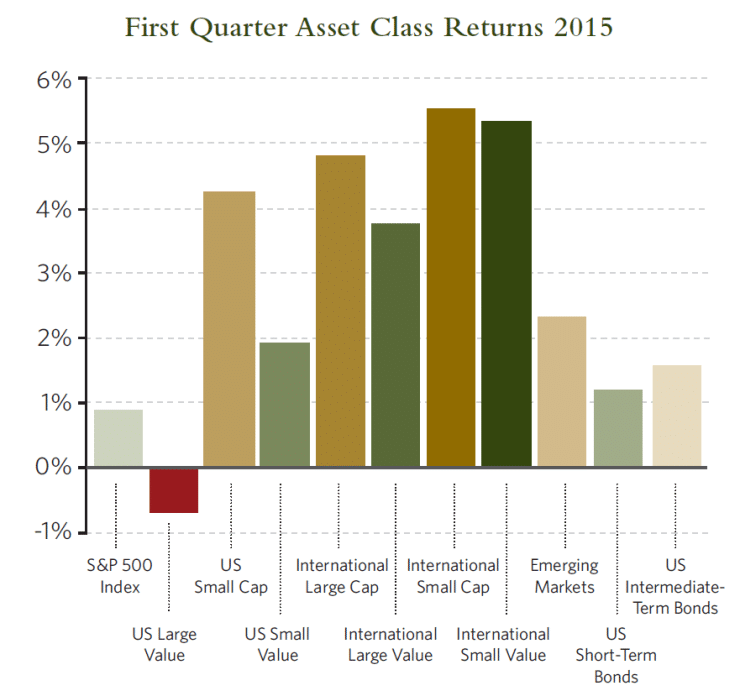 Beyond the benefit of domestic and international "steps" that your portfolio takes, CCM is keenly interested in your overall financial health and well-being. Connecting back to our firm-wide fitness monitoring experiment, the most interesting observation I've had so far has not been a singular data point in time (like step counts), but rather it has been the interconnection between my own personal fitness levels on a day-to-day basis and the duration and quality of my sleep. Although outside factors can play a role in my nightly shut-eye (namely my 2 ½ year old daughter), I have found a clear link between my activity in a given day and my sleep that night. When I am mindful of getting out for a walk with my dog and engaging my body in physical exercise, my sleep comes more easily and provides me with more rest than when I am unable to be active.
With our Tax Team busily wrapping up another season of tax preparation for our clients, it's abundantly clear that a similar inter-connectedness exists between investments and taxes. The preparation of a tax return is an exercise in looking back and reporting on income and deductions that have already occurred. Come April 15th, good or bad, the numbers are what they are and there's not much that can be done to change them. Like a restless night's sleep after a day without any thought about activity, if your investment portfolio were to be managed without an understanding of potential tax consequences, you would likely be disappointed in the result come tax time.
There are many ways we incorporate proactive tax planning into the decisions we make when managing portfolios. One key factor is to make sure that our investment philosophy allows for a tax-efficient outcome. Outside of retirement and tax-deferred accounts, each time a stock or bond is sold throughout the year, there is a potential tax implication to the investor. If the investment made money, then there will potentially be tax owed on the capital gain.
So-called "active investment strategies" that rely on stock picking and require constant buying and selling of securities throughout the year in an effort to beat the returns of a given index have two major hurdles to overcome:
The first hurdle is one that we often discuss and is clearly shown year after year in the performance of actively managed funds. We all know that no one can consistently predict the future, so we shouldn't be surprised that the vast majority of actively managed funds fail to generate the outperformance that they promise. Therefore, there is little reason to own them in a portfolio.
The second hurdle that funds have to overcome is the impact that taxes will have on investor returns. If a strategy requires short-term, frequent buying and selling throughout the year to generate these higher returns, it's possible that up to half of the total return reported could be owed to the IRS come tax time. A term used to describe the tax efficiency of mutual funds and ETFs is the fund's 'Tax Cost Ratio.' A Tax Cost Ratio measures how much a fund's annualized return is reduced by the taxes investors pay on distributions.(1) In a recent study, Vanguard showed that the median tax cost of funds following an index based approach was 30% lower than the median tax cost of an actively managed fund.(2) When looking at the highest reported tax cost in each category, the tax cost ratio of the 'worst' index fund was actually 60% lower than the comparable active fund.
Another way that CCM's investment philosophy integrates with individual tax planning is through the strategy of efficient asset location. Asset allocation describes the balance of different types of assets (stocks, bonds, cash, etc.) within a given portfolio. Efficient asset location means that we select the best types of accounts (taxable or retirement) to place these various types of investments based on their tax treatment. For example, because the income paid by most bond investments is taxed at an individual's highest marginal tax rate, these assets are typically best held in tax deferred accounts like IRAs and 401(k)s. On the other hand, because much of the price appreciation that occurs in equity mutual funds is not taxable until the fund is sold or the income is distributed—and even when that does occur the gains are taxed at preferred rates if the position was held for more than one year—it is best to own these types of investments in taxable accounts like living trusts, joint, and individual accounts. Like setting a plan for activity throughout the day in order to improve sleep over the night ahead, appropriately locating assets at implementation improves the chances of a favorable tax season.
In another recent study, Vanguard reported that the value of owning the right types of assets in the right types of accounts increased the after tax-return of an identical 60% stock and 40% bond portfolio by almost 14% over ten years.(3) In dollar terms, this translated to more than a $130,000 increase in value assuming an identical starting value of $1 million and the same pre-tax returns.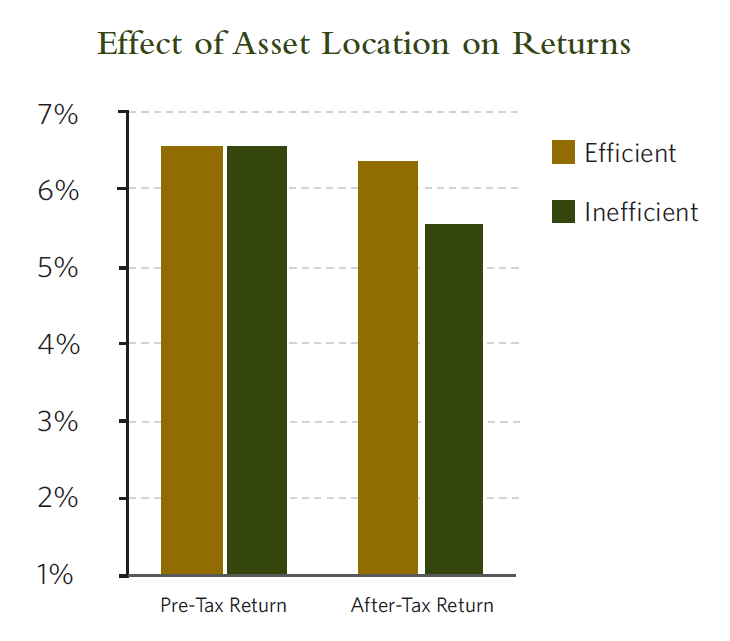 In conclusion, the return that you receive on your investments matters a great deal, just like steps are an important and foundational element of an active lifestyle. Even more important to your long-term financial health and well-being is the return that you get to keep. Placing your investment steps into an efficient and coordinated tax and asset location plan means that you have a higher probability of achieving success in your financial fitness plan.
---