Each year in late December and early January my email inbox is flooded with articles and top 10 lists summarizing the year that was. And although capturing everything that has happened in a year can never be truly accomplished in an email or with a handful of striking photographs, simply taking the time to be reminded of what occurred over the past twelve months can be an important exercise for us all. This type of reflection can provide valuable context to decisions that we have made and help us make even better decisions in the year to come.
Along with all of our other blessings, we feel fortunate to be able to celebrate the strong performance of the stock market in 2013 that has benefited our clients and that will further allow you to reach your goals through retirement and beyond. The S&P 500 index experienced the best calendar year return for US stocks in more than 15 years. For everyone with a diversified investment portfolio, this is truly a reason to celebrate.
In addition to the thought-provoking reflections on the year that cross my desk, I am also inundated with investment forecasts purporting to be the inside scoop on what the future will surely bring. Whatever it is that these financial fortune tellers see in their crystal balls, there's always a sense of urgency in the tone of the message because they claim the consequences of whatever they've predicted are imminent. Surprisingly, much of the time these analysts are actually spot on with the details of what the future will bring, their problem usually comes with when it will happen. They suffer from a common affliction; they confuse what is inevitable with what is imminent.
We all understand logically that no one is able to truly predict the future, but many of us also want to believe that the right people, with the best data and the most powerful computers, may have a pretty good chance. One of the most written about topics for 2013 was the increase in interest rates that was experienced across the US bond market. For many it was confirmation that they or certain "experts" were "right" in their predictions that bond rates were going to go up and everyone who owned bonds was foolish for not seeing it coming. What is usually missed in this exchange, and certainly goes unreported on the nightly news and in the business sections of newspapers, is the fact that most of the predictions about the future direction of interest rates over the past five years were that they were soon headed higher.
This much-delayed reaction perfectly illustrates the type of confusion that results from mistaking the inevitable for the imminent. If pundits simply repeat a forecast of an inevitable outcome (interest rates will go up) again and again, year after year, they will be right at some point in the future. It's then that they can say "See! I knew it all along!" Their hope is that their touted "stellar track record" will score them more viewers or sell more books…but how does that help you?
Number of Days with New All-Time High Stock Market Values (by decade 1950-present)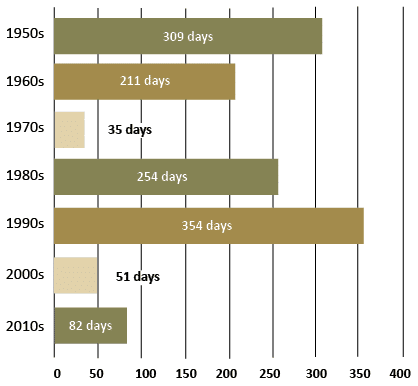 Data represents past performance. Past performance is no guarantee of future results. Chart is for illustrative purposes only. Returns are based on data from the S&P 500 PR from 1950-1987 and the S&P 500 TR from 1988-2013.
The same phenomenon was demonstrated even more dramatically this year with stock market related predictions. Based on the very strong global market returns of 2012, many experts and retail investors believed that stocks were due for a pullback or a correction in 2013. Therefore, after the jump in stock prices in January of this year, crystal ball seeking investors confused the imminent with the inevitable and decided to wait until the market was priced lower to make any changes to their allocations. Unfortunately for these investors, the lowest prices for 2013 were during the very first days of trading.
When it comes to the stock market, we know two things to be absolutely true. First, at some point in the future prices will go down—by quite a bit. Second, at some point in the future prices will go up—by even more.
The curious thing is that many people think these inevitable outcomes are predictable. Often times this past year the good news of rising prices was broadcast through a lens of fear and negativity. The logic was that if stocks were at an all-time high, then the only place for them to go was down. This thinking kept many retail investors from investing new dollars into the stock market and caused some to pull large portions of their portfolios out of stocks early in 2013 as they waited for the imminent pull back or correction they believed would occur. The problem with this seemingly logical conclusion is that the market just didn't behave that way. Stock prices are based on many factors; most important are the earnings and profits of the underlying companies.
The chart above illustrates the number of all-time highs reached by the S&P 500 index per decade since 1950. Since that time, the S&P 500 has hit all-time highs a total of 1,296 days. That's more than 8% of all trading days. There were about 1,296 chances to sell stocks at an all-time high value, but 1,295 times to be wrong that prices were destined to go down. Your investment portfolio, and the disciplined strategy that we use to manage it, is prepared for the inevitable that there will be a downward move in the market at some point; but more importantly, it is prepared for the inevitable that we will experience many more all-time highs. When we match this disciplined investment strategy and pro-active management with your financial plan, we partner with you in helping you achieve financial success.
Fourth Quarter and 2013 Year-End Returns At-a-Glance
| | | |
| --- | --- | --- |
| | Q4 2013 | Year-end 2013 |
| S&P 500 Index | +10.51 | +32.39 |
| US Large Value | +10.01 | +32.53 |
| US Small Cap | +8.72 | +38.82 |
| US Small Value | +9.30 | +34.52 |
| International Large Cap | +5.71 | +22.78 |
| International Large Value | +6.26 | +22.95 |
| International Small Cap | +5.91 | +29.30 |
| International Small Value | +6.47 | +31.60 |
| Emerging Markets | +1.83 | -2.60 |
| US Short-Term Bonds | +0.11 | +0.11 |
| US Intermediate-Term Bonds | -0.14 | -2.02 |
Data represents past performance. Past performance is no guarantee of future results. Chart is for illustrative purposes only. Returns are based on data from the S&P 500, Russell Investments for US indices, MSCI for international and Barclays for bonds for the time period of 10/1/13 through 12/31/13 for Q4 and 1/1/13 through 12/31/13 for the year. Specific indices listed below.
The US stock market continued its climb with very strong positive returns in the fourth quarter. Large cap companies produced the highest quarterly returns with small companies taking the prize for the full year.
Many major US market indexes closed the year at record levels with others like the NASDAQ at relative highs.
A broad index of international developed market stocks couldn't quite keep pace with the returns of the US market, but returns of more than 20% in large companies and 30% in small companies were a fine consolation. Some individual countries drove this performance with Japan's Nikkei 225 average up over 56.7% for the year in Japanese Yen (JPY) terms.
Emerging market countries held the only broad basket of stocks that lost value for US investors. Much of the loss in these countries came from the change in currency valuations and not from the stocks themselves.
With continued focus on the bond market and the activities of the Federal Reserve Bank, short-term bonds managed to produce positive returns for the quarter while a shift in interest rates near the end of the year pushed longer-term bonds negative. It's important to note that even after the significant move of interest rates in 2013, short-term bonds produced positive returns and intermediate term bonds were held to slight losses.
Indexes used for the table on page 5 are as follows: S&P 500 TR USD; Russell 1000 Value TR USD; Russell 2000 TR USD; Russell 2000 Value TR USD; MSCI EAFE NR USD; MSCI Value NR USD; MSCI EAFE Small Cap NR USD; MSCI Small Value NR USD; MSCI EM NR USD; Barclays US Govt/Credit 1-6 Yr TR USD; Barclays US Agg Bond TR USD.
Please remember that past performance may not be indicative of future results. Different types of investments involve varying degrees of risk, and there can be no assurance that the future performance of any specific investment, investment strategy, or product (including the investments and/or investment strategies recommended or undertaken by Carlson Capital Management), or any non-investment related content, made reference to directly or indirectly in this newsletter will be profitable, equal any corresponding indicated historical performance level(s), be suitable for your portfolio or individual situation, or prove successful. Due to various factors, including changing market conditions and/or applicable laws, the content may no longer be reflective of current opinions or positions. Moreover, you should not assume that any discussion or information contained in this newsletter serves as the receipt of, or as a substitute for, personalized investment advice from Carlson Capital Management. To the extent that a reader has any questions regarding the applicability of any specific issue discussed above to his/her individual situation, he/she is encouraged to consult with their advisor. A copy of Carlson Capital Management's current written disclosure statement discussing our advisory services and fees is available upon request.