On December 22, 2017, President Trump signed into law the Tax Cuts and Jobs Act. The changes in the Act represent the most sweeping change to the U.S. tax code in many years and impact individuals and businesses on a level not seen in over 30 years (since 1986, when the Internal Revenue Code was amended). This quarter, we wanted to provide you with a summary of the most relevant provisions. Two additional resources, including the full 570 page report from the Conference Committee, can be found in the sidebar of this post should you be interested in reading more.
Our Tax Team is actively analyzing all of the changes and looks forward to working with you in 2018 to help optimize your tax situation.
New Income Tax Rates and Brackets
For tax years beginning after December 31, 2017, and before January 1, 2026, the following seven tax rates apply for individuals: 10%, 12%, 22%, 24%, 32%, 35%, and 37%, as detailed in the tables below: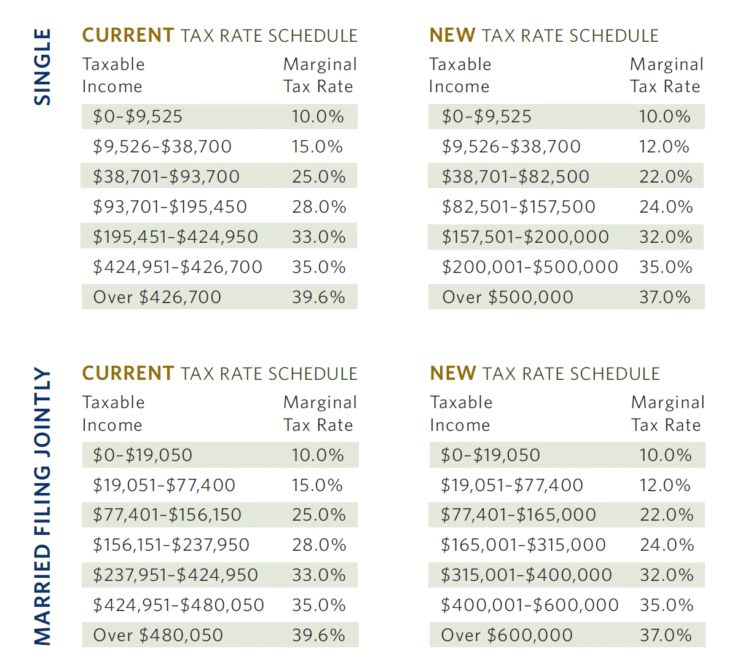 For each of the following, the changes are applied for tax years beginning after December 31, 2017, and before January 1, 2026:
Standard Deduction Increased
The standard deduction is increased to $24,000 for married individuals filing a joint return, $18,000 for head-of- household filers, and $12,000 for all other taxpayers.
Personal Exemptions Suspended
The deduction for personal exemptions is effectively suspended by reducing the exemption amount to zero.
Mortgage & Home Equity Indebtedness Interest Deduction Limited
The deduction for interest on home equity indebtedness (i.e. debt used for purposes other than to acquire or improve a home) is suspended, and the deduction for mortgage interest is limited to underlying indebtedness of up to $750,000. The new lower limit doesn't apply to any acquisition indebtedness incurred before December 15, 2017.
New Deduction for Pass-Through Income
The new law adds a deduction of up to 20% for a taxpayer that has "qualified business income" (QBI) from a partnership, S corporation, or sole proprietorship. The deduction is subject to certain thresholds and exclusions based on type of business, amount of wages paid, amount of taxable income, etc.
Child Tax Credit Increased
The child tax credit is increased to $2,000 per qualifying child. The income levels at which the credit phases out are increased to $400,000 for married taxpayers filing jointly ($200,000 for all other taxpayers). In addition, a $500 nonrefundable credit is provided for certain non-child dependents.
State and Local Tax Deduction Limited
A taxpayer may claim an itemized deduction of up to $10,000 for the aggregate of state and local property taxes and state and local income taxes (or sales tax in lieu of income taxes) paid or accrued in the tax year.
Miscellaneous Itemized Deductions Suspended
The deduction for miscellaneous itemized deductions (i.e. employee business expenses, investment expenses, tax preparation expenses, etc.) that are subject to the 2% floor is suspended.
Alternative Minimum Tax (AMT) Retained with Higher Exemption Amounts
The new law increases the AMT exemption amounts for joint returns to $109,400 and for single taxpayers to $70,300.
For each of the following, the changes are applied for the timeframes  noted in each category:
Repeal of the Rule Allowing Re-characterization of IRA Contributions
For tax years beginning after December 31, 2017, the rule that allows a contribution to one type of IRA to be re- characterized as a contribution to the other type of IRA does not apply to a conversion contribution to a Roth IRA. Therefore, re-characterization cannot be used to unwind a Roth conversion completed in tax years beginning after December 31, 2017.
Corporate Tax Rates Reduced
For tax years beginning after December 31, 2017, the C corporation tax rate is a flat 21% rate.
Alimony Deduction by Payor Inclusion by Payee Suspended
For any divorce or separation agreement executed after December 31, 2018, alimony and separate maintenance payments are not deductible by the payor spouse and are not included in the income of the payee spouse.
Medical Expense Deduction Threshold Temporarily Reduced
The threshold on medical expense deductions is temporarily reduced to 7.5% of adjusted gross income (AGI) for all taxpayers for tax years 2017 and 2018.
Estate and Gift Tax Retained, with Increased Exemption Amount
For estates of decedents dying and gifts made after December 31, 2017, and before January 1, 2026, the Act doubles the base estate and gift tax exemption amount from $5 million to $10 million. The $10 million amount is indexed for inflation occurring after 2011 and is expected to be approximately $11.2 in 2018.
Expanded Use of 529 Account Funds
For distributions after December 31, 2017, "qualified higher education expenses" include tuition at an elementary or secondary public, private, or religious school, up to a $10,000 limit per tax year.
Capital Gains Provisions Conformed
The adjusted net capital gain of an individual taxpayer is taxed at maximum rates of 0%, 15%, or 20%. The new law generally retains present-law maximum rates on net capital gains and qualified dividends.
Again, this is a high level overview of some of the core provisions of the Act. As always, if you have any questions, please be sure to contact us. Meanwhile, the Tax Team will be more specifically detailing how the new tax law will affect your personal situation when we meet with you this year.
NOTE: The information provided in this post is intended for clients of Carlson Capital Management. We recommend that individuals consult with a professional adviser familiar with their particular situation for advice concerning specific investment, accounting, tax, and legal matters before taking any action.