Hastings, MINN. (October 10, 2017)—Carlson Capital Management (CCM) announced today that the firm has been recognized by the Dakota-Scott Workforce Development Board as an Employer of Excellence. In the Board's second year of granting the award, CCM was one of ten employers honored at an event on October 4, 2017. This is the second year consecutively that the Board has recognized CCM with the award.
Small businesses that participated in the program were evaluated on a number of metrics including: rate of growth, promotion rates, employee evaluation and feedback, employee training and development, hiring and retention of employees, benefit plans and more. Employer of Excellence Award recipients were recognized for their top rankings in these categories.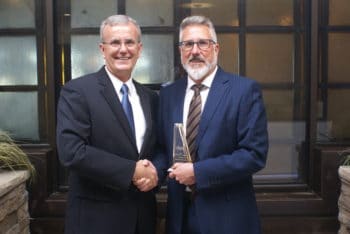 According to Scott Feraro, Carlson Capital Management Director of Human Capital, notable recognition was received for CCM's significant increased focus on employee engagement and for the recent expansion of the equity ownership plan to include all employees. The firm was again noted for the longevity of its employee tenures with the firm. "We are honored to once again receive this recognition as a validation of the employee-centric practices we sustain and the creativity with which we continue to explore new opportunities to care for our team."
Carlson Capital Management, founded in 1987 has grown from a firm of five employees with $100 million in assets under management in 1999, to a firm of 42 employees managing $1.8 billion in assets under management in 2017.
"We are humbled to be presented with this award again this year," said Co-Founder/Principal, Jeff Carlson, "Our work on these efforts at our firm is resulting in a high level of employee engagement and is having a very positive impact. This kind of recognition affirms our focus on, and our investments in these priorities."
For more information visit: Dakota-Scott Workforce Development Board.
---
Related disclosures:
The Dakota-Scott Workforce Development Board does not have the criteria for this award publicly posted, other than during the open application period for the award. CCM did not pay a fee to receive this award, and has paid no fees to the Workforce Development Board to promote this award. The organization invites eligible employers in the county to submit a survey for consideration of the award. The Dakota-Scott Workforce Development Board independently honored CCM.