To serve as your financial steward and help you use your wealth to accomplish your goals.
From investment management and retirement planning to tax services and estate planning, our integrated wealth management approach unlocks opportunities that our clients deserve. You have financial planning needs—and we're here to help.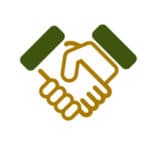 Our Clients
With our fully integrated platform and comprehensive service model, we've found that we're best able to assist clients who have a minimum of $1 million in investable assets. Clients with less than this asset level may be interested in the Carlson Portfolios platform. We look forward to hearing from you no matter which service platform works best.

Meet Our Team
Our financial services firm supports you with our team of trusted advisors who work together to integrate all the key financial disciplines into one, custom plan. Meet our team »

Request a Conversation
Take the next step in learning more about our financial services by requesting a conversation with one of our advisors. Or, you can call us directly at 952.230.6700.
Email Updates
To receive CCM's Newsletter and Insights email messages, sign up here and we'll gladly add you to the list: