Professional Biography
Selene Serkland is an Associate Integrated Wealth Advisor at Carlson Capital Management. As part of the Advisory Team, Selene collaborates with clients and advisors across the firm on all aspects of planning and portfolio management. She is responsible for facilitating client meetings, preparing presentation materials, and assisting with portfolio management. In addition, Selene is responsible for a strong working knowledge of and leveraging of firm technology to best serve clients.
Selene graduated cum laude from St. Olaf College, where she earned a Bachelor of Arts degree in economics and mathematics with a concentration in statistics. While at St. Olaf, Selene competed as part of the college's rowing team and held the position of president for two years. Prior to joining CCM, Selene served as an intern for a mid-sized wealth management firm in Chicago. In this role, she developed a passion for the financial services industry and gained foundational knowledge of portfolio management. Selene holds the Certified Financial Planner™ designation granted through the Certified Financial Planner Board of Standards.
Selene grew up in Lake Forest, Illinois, a suburb of Chicago. She currently resides in Minneapolis, Minnesota. In her free time, Selene enjoys spending cabin time with family and friends, singing in her local church choir, cooking (and eating) great food and rowing with the Minneapolis Rowing Club.
Personal Thoughts
Each day I find joy in providing a sense of security for our clients that comes with a strong financial plan. For me, security is one of the most important aspects of my job. From a young age, I saw how a lack of stability could cause strain on a family ecosystem. My mother runs her own architecture firm. When people practically stopped building houses in 2008 as the Great Recession took hold, my mom would remark that she, "went to work to find work." In our household, we lacked the sense of security that a steady paycheck provides. 
I think the lack of security I felt is similar to what clients can experience upon retirement. Once the paychecks stop and the portfolio becomes a main source of income, that question of "Do I have enough?" takes center stage. Developing a plan to not only answer that question, but allowing clients to fully trust they are secure, is where I find the greatest value in my work with Carlson Capital Management. 
Selene's Insights SEE ALL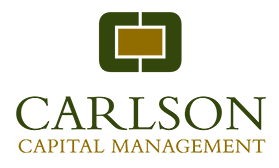 In honor of Women's History Month, we introduce you to one of the newest members of CCM's team, Selene Serkland.