Policy and Politics: Navigating the New Non-Normal
In partnership with our fellow ZAG firms, Carlson Capital Management is pleased to present you with this special webinar event.
---
Unfortunately, given the timeliness of Michael's content, a recording of his conversation is no longer available.
---
About the Webinar
Schwab's political analyst, Michael Townsend, offers an entertaining and informative discussion on how policy and political developments in the nation's capital are impacting the markets and individual investors. During this one-hour event, we hear Michael's perspective on the election results and what they might mean for the policy and political environment in 2021 and beyond. He'll also discuss the latest developments with regard to economic stimulus legislation, taxes, retirement savings, regulatory proposals, and other timely issues we believe will be of interest to CCM and ZAG firm clients.
Meet Michael Townsend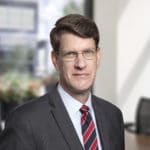 As Vice President of the Office of Legislative and Regulatory Affairs, Michael Townsend is Charles Schwab's Washington-based political analyst. He speaks regularly at events around the country on how policy and politics affect investors.

Townsend brings more than 25 years of Washington experience as he analyzes legislative and regulatory proposals to determine how they would affect individual investors, retirement plan participants and investment advisers. As an advocate for individual investors, he then develops and executes strategies to communicate their interests to lawmakers, the media, employees and clients.
Townsend joined Schwab in April 2000 after nearly three years at Powell Tate, Inc., a Washington, D.C., public affairs firm, where he headed the Financial Services Legislative and Regulatory Issues group. He previously served as press secretary and legislative assistant to Senator Susan M. Collins (R-Maine), and was Collins' spokesperson during her successful 1996 campaign for the Senate. From 1993-1996, Townsend was an aide to Senator William S. Cohen (R-Maine), serving as assistant press secretary and later as press secretary to the Senate Special Committee on Aging, which Cohen chaired.
He earned his Bachelor of Arts degree in English from Bowdoin College in Brunswick, Maine, and a Master of Arts degree in English from George Mason University. He lives in Falls Church, Virginia, with his wife and three children.
Questions
If you have any questions, please contact CCM's Angie Olson at 507.321.4014 or angie.olson@carlsoncap.com.