Please join us for an evening featuring inspirational speaker and best-selling author NORA McINERNY on Doing Well and Being Well.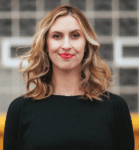 Renowned speaker and best-selling author, Nora McInerny, will share her compelling story of profound loss and her journey of healing through heart and humor exploring the topic of Doing Well and Being Well. Nora lives in Minneapolis, is a contributing editor for Elle.com and writes articles all over the internet, for Vox, Cosmopolitan, Buzzfeed, TIME and others. She also started Hot Young Widows Club, the non-profit Still Kickin that helps good people go through terrible things, and is host of a pod-cast Terrible, (Thanks for Asking) with American Public Media (airing on Minnesota Public Radio).
We look forward to this opportunity to gather with our female clients and friends, along with guests you would like to invite who would appreciate meeting CCM team members. Please note your guests' names in your reservation.
Space is limited! Seats will be reserved in the order requests are received until filled—or until final deadline of September 18, 2019.
---