Caring for Our Communities
Since our inception as a firm, Carlson Capital Management has held a guiding principle of extending care to the greater community. As colleagues, and owners of a mission-driven firm, we are drawn to a larger purpose beyond just self, or firm. It starts with our clients and the fulfillment of their goals and legacy, but it doesn't end without us playing our role in the larger community.
Together, we are witnessing the challenges and suffering created by the global pandemic, and the compounding effect of social, racial, and economic inequities. We are pained by how these challenges play out in the lives of individuals and families in our communities and across the globe. Wanting to join together to do something to help, our firm created the CCM Circle of Care Charitable Initiative. The Initiative has engaged all of the colleagues of Carlson Capital Management to personally contribute and make gift recommendations to organizations of their choice with a collective voice.

Through the Carlson Capital Management Charitable Fund, a donor-advised fund of the American Center for Philanthropy, the CCM Circle of Care Charitable Initiative is connecting our colleagues and firm to some of the most pressing needs in front of us today.
Each colleague has reflected on where they felt dollars would have the most impact, and where they would want to "invest" a total of $2,000. Together we gathered in small groups to discuss ideas. We also encouraged discussion with one another's families, including children. The result is that more than $100,000 is going to more than 110 organizations. As noted from the names of organizations below, the list is wide and diversified, reflecting both the needs within our communities, the reflection of our colleagues, and the beautiful human spirit behind people caring for people.
The Circle of Care Charitable Initiative is serving additional benefits beyond providing dollars. We are now more deeply connected to organizations that are on the front line of caring, solving problems, and creating opportunities for positive change–and we are excited about where some of these connections may lead. In addition, through discussing matters of heart, we are learning more about one another and are united in a larger purpose.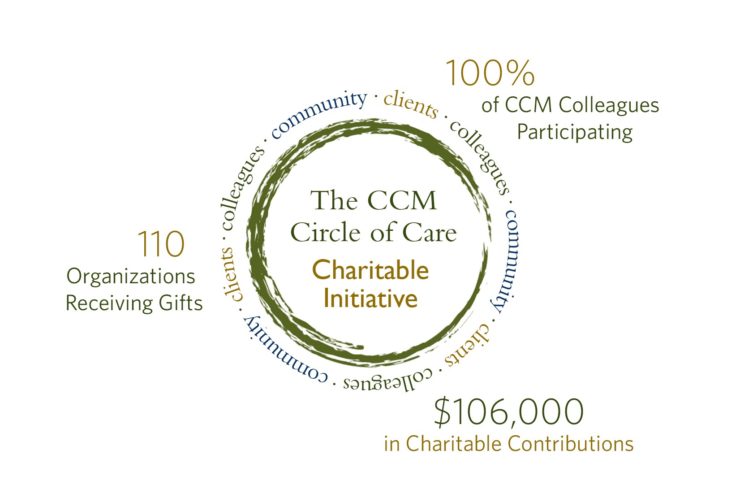 ---
Organizations Our Colleagues Selected
We admire the work of the critical organizations whose missions make our communities strong and tend to the needs of individuals, families, and communities. Our colleagues, through their experience and reflection, have directed monies to each of the following organizations:
360 Communities | All Kids Bike | All Seasons Community Services | Alzheimer's Association | Angel Foundation | Animal Humane Society | BestPrep | Beth El Synagogue | Big Brothers Big Sisters – Twin Cities | Black Men Teach | Black Visions Collective | Bolder Options Rochester | Boy Scouts of America – Troop 64 | Cannon Falls Education Foundation | Cannon Falls Food Shelf | Catholic Charities of the Diocese of Winona- Rochester | Channel One Regional Food Bank | Church of St. Dominic | Close Gaps by 5 | Community Action Center of Northfield | Coyote Hill Christian Children's Home | Damascus Way Reentry Center | Equal Justice Initiative | Feed My Starving Children | Feeding America | Feeding South Dakota | Folds of Honor Foundation – Minnesota Chapter | Girls on the Run Twin Cities | Give Well | Holy Trinity Lutheran Church | InnerCity Tennis Foundation | Innocence Project | Jeremiah Program | Juxtaposition Arts | KTIS | Lake Street Council | Lutheran Social Service of Minnesota | Metropolitan State University | Minneapolis Foundation | Minnesota Association of Alternative Programs | Minnesota Children's Alliance | Minnesota Environmental Fund | Minnesota Zoo Foundation | Muddy Paws Second Chance Rescue | Mobile Hope | National Eating Disorders Association | No More Empty Pots | Northside Funders Group | OutFront Minnesota | Page Education Foundation | Paradise Center for the Arts | Park Avenue Methodist Church | People and Pets Together | Platinum Studios Dance | Red Wing Band Boosters | Red Wing Boosters Club | River Bluff Humane Society | Rochester Community and Technical College Foundation | Ronald McDonald House of Rochester | Ruff Start Rescue | Saint Paul Area Chamber of Commerce Charitable Foundation | Salvation Army – Twin Cities | Secondhand Hounds | Second Harvest Heartland | Serving Orphans Worldwide | Sheldon Theater | South Minneapolis Salvation Army | Springboard for the Arts | St. Dominic School | St. Stephen Lutheran Church | Southern Poverty Law Center | The Link | The Loppet Foundation | The Sheridan Story | Tides | TORCH | Tubman | United Way of Hastings | Urban Homeworks | Urban Ventures | United Nations Foundation | We WIN Institute | YMCA of the Greater Twin Cities – White Bear Lake | YWCA of Minneapolis