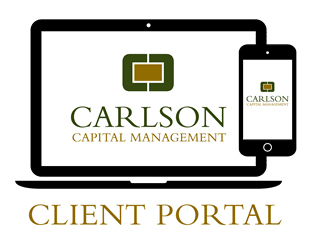 CCM is pleased to offer a Client Portal for seamless access any time to all of the following:
An interactive big picture, real-time overview of all of your CCM-managed accounts;
A snapshot of your current/daily investment holdings;
Dynamic reports that adjust as you select custom criteria;
Secure access to document-sharing with CCM;
Quarterly statements; and
CCM communications, such as quarterly newsletters and the news feed.
If you have questions about the Portal, visit our Portal FAQ page to learn more.
---
If you are a prospective client of CCM, please login using the button below:
---
You can also login to the Charles Schwab website by using the button below:
By clicking the link above you will be leaving the Carlson Capital Management ("CCM") website and will be entering the Charles Schwab & Co., Inc. ("Schwab") website.
Schwab is a registered broker-dealer, and is not affiliated with any advisor(s) whose name(s) appear(s) on this website. CCM is independently owned and operated. Schwab neither endorses nor recommends any particular advisor or investment strategy. CCM provides investment advisory services for your account. Schwab has agreements with CCM under which Schwab provides CCM with services related to your account. Schwab does not review the CCM website, and makes no representation regarding the content of the website. The information contained in the CCM website should not be considered to be either a recommendation by Schwab or a solicitation of any offer to purchase or sell any securities.