Our deep and broad multi-disciplinary approach to wealth management is unique in the industry and is designed to provide clients and their families with optimal outcomes. In keeping with that commitment, I'm excited to introduce you to CCM Director of Estate Planning Janelle Schrupp, J.D.
In her role at CCM, Janelle lends her experience in estate planning and elder law to support clients in developing and administering estate plans to efficiently transfer wealth. She has a heart for people and an ear for listening, and we hope you'll have the opportunity to meet her soon. In the meantime, please enjoy getting to know her a little bit better.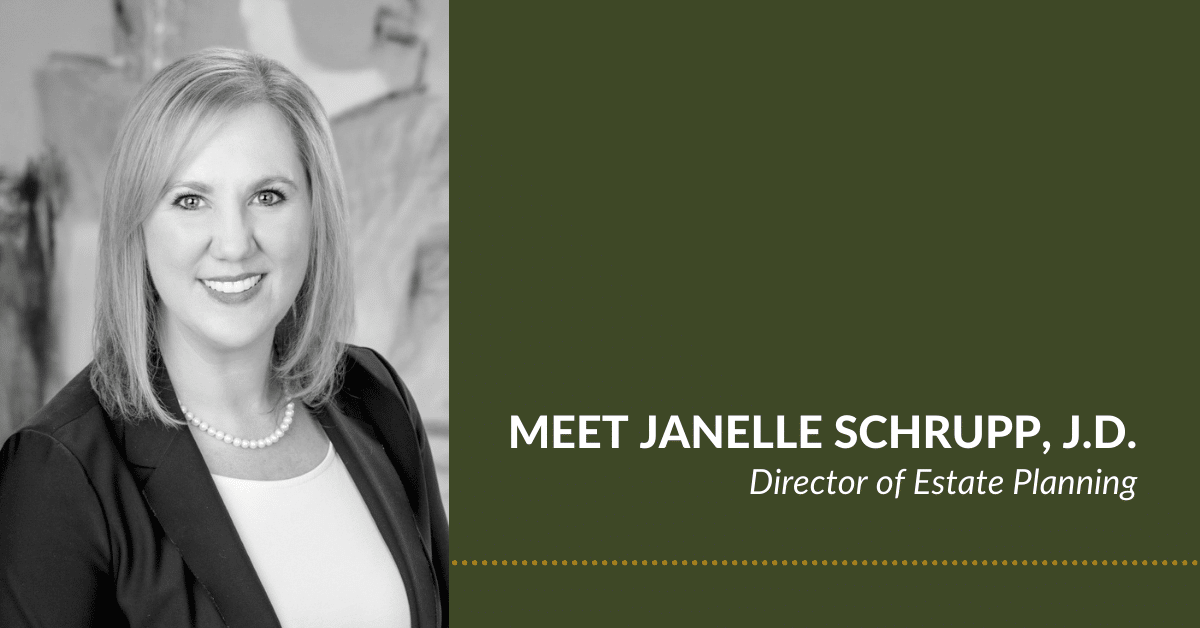 Why have you chosen to pursue a career in wealth management? How did you land here?
I started out my career as a practicing attorney, assisting clients in the areas of estate planning, probate, and elder law. While I very much enjoyed the work I did, it began to feel a little too transactional. My clients would sign their estate planning documents and then they would be on their way. I wanted a career where I could focus more on building long-lasting relationships without the concern for billable hours. Wealth management felt like the natural transition. I worked for a couple of years at a small RIA and then as a fiduciary advisor for a large bank. Part of my role at the bank was working with trust beneficiaries when the bank was acting as trustee to support them through to process of requesting and receiving distributions from their trusts. The other part of my role was having discussions with wealth management clients to assist them with transitioning wealth to the next generation. I decided to move over to CCM because I wanted to work for a smaller company with deep roots in their community and a desire to support not only clients but colleagues as well.
What is it about estate planning that interests you most?
What I find the most interesting is discussing with our clients how we can thoughtfully transfer wealth and values on to the next generation. It is a combines legal and tax knowledge along with listening to our clients to gain an understanding of what they would like to accomplish with their wealth, both while they are alive and the legacy they would like to leave after their passing.
What advice do you have for young professionals who are still finding their way?
The best advice I have was given to me while I was at the start of my career. The advice was that this is not a career ladder that we are all trying to climb up, it is instead a career web. We weave together all of our experiences, both personal and professional, to develop into the person we are today. We continue to weave new experiences into this career web and try to spend more and more of our time focusing on the experiences that we find to be the most fulfilling. This takes time and patience.
To learn more about Janelle, read her biography.
General information about how CCM views estate planning as a critical component of integrated wealth management can be read here. For specific questions about your estate plan and how it works in concert with your financial goals, contact your CCM advisor.
NOTE: The information provided in this article is intended for clients of Carlson Capital Management. We recommend that individuals consult with a professional adviser familiar with their particular situation for advice concerning specific investment, accounting, tax, and legal matters before taking any action.