Why do we invest? It may seem like a simple question, but it is one that is too frequently passed over. We invest to accomplish our financial goals. But those goals are unique relative to the goals of other investors. To illustrate the importance of the story behind an investment strategy, especially as it relates to a life stage, let's consider a couple entering retirement.
It's no surprise that a couple entering retirement has very different goals and objectives than a nonprofit institution with a 200-year history. That couple also has very different objectives than a day-trader looking to meet profit goals for the week, or that of a young professional hoping to uncover the next great American business. And certainly, this retiring couple has different goals than investors who are speculating on cryptocurrency, non-fungible tokens, special purpose acquisition companies, and every other investment fad that briefly captures investment headlines. If we understand that investors have different goals and objectives, then we can also understand why the investment strategy that's right for one may be equally inappropriate for another.
A Portfolio Strategy for Your Goals
At Carlson Capital Management, we believe that aligning our investment strategy to the goals and objectives of each client is extremely important. This means building diversified, low-cost, and tax-efficient portfolios, and layering in risk characteristics that align with each client's preferences and financial goals. In general, we construct portfolios by seeking out high quality, profitable companies, selling at attractive valuations, which is the antithesis of speculation.
Performance Over Time
The result of this approach is that during speculative manias, like what we saw from March of 2020 through February of 2021, we may not participate in the most exciting areas of the market. In this time, a popular Exchange Traded Fund, the ARK Innovation ETF (ARKK), captured headlines after producing returns of 351% during this time period,1 primarily by investing in unprofitable technology stocks, leading to billions of dollars in investor inflows to the fund. Our consistency in approach also means that we will not be harmed when these bubbles inevitably pop. Since February of 2021, ARKK has lost 71% of invested dollars, and is down 52% this year through the end of July.2 Year-to-date, unprofitable companies as a whole have lost an average of 25%, while profitable companies selling at attractive valuations were down just 4.5% on average.3 This is not just cherry picking a recent short period of performance either; profitable companies selling at attractive valuations have outperformed unprofitable companies by over 10% per year since 1991, as shown below.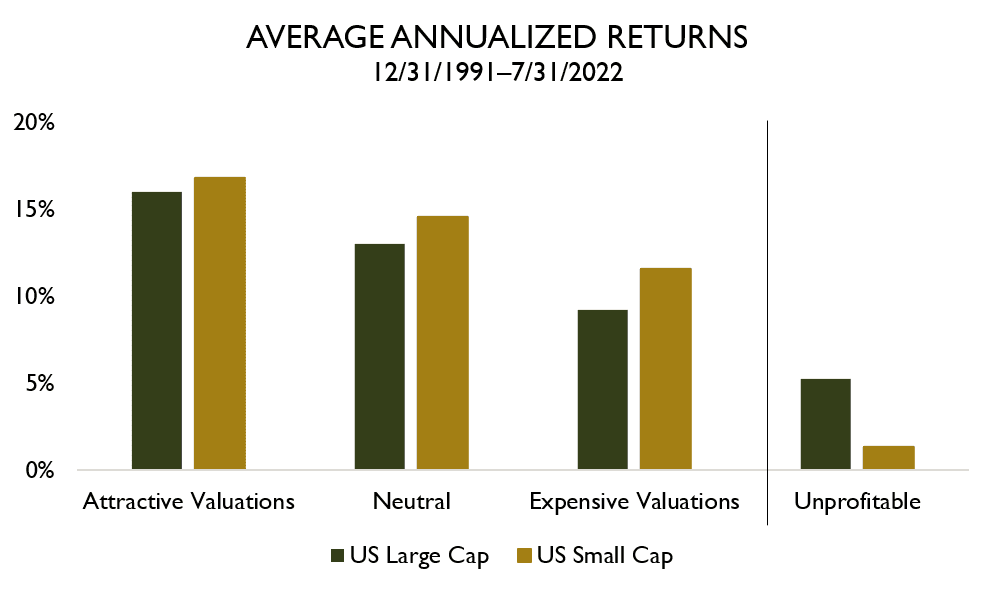 Not only is there a strong reason to avoid unprofitable companies due to inferior long-term performance, but the performance of these types of stocks tend to magnify market cycles—outperforming in good times, while underperforming in bad times—which is the exact opposite dynamic of what an individual approaching, entering or in retirement should be seeking to accomplish. And this is not a small esoteric issue for investors, considering that 884 of the companies present in the Russell 3000 Index were unprofitable at the end of July.4
Building for You
Markets are made up of many participants with different goals and objectives. There are some investors, for example, who are attracted to investing in unprofitable companies whose expected returns are similar to that of buying lottery tickets. Not every investment is right for your portfolio and that's ok. By aligning strategy with portfolio construction, we're able to look past short-term investment noise and focus on what matters—accomplishing your financial goals.
---
NYSE Arca, Inc., ARK Innovation ETF (ARKK) for the time period of 3/18/2020–2/12/2021. Morningstar.com.
NYSE Arca, Inc., ARK Innovation ETF (ARKK) for the time periods of 2/21/2021–7/31/2022 and 12/31/2021–7/31/2022. Morningstar.com.
Universe includes the 3000 largest companies based on market capitalization. Unprofitable companies defined as those having negative free cash flow as of 12/31/2021. Attractive valuation companies defined as the top quintile of companies, based on a segmentation of the 3000 largest companies base on market capitalization who had positive free cash flow. Morningstar Direct.
Russell 3000 TR Index USD. Morningstar Direct.
NOTE: The information provided in this article is intended for clients of Carlson Capital Management. We recommend that individuals consult with a professional adviser familiar with their particular situation for advice concerning specific investment, accounting, tax, and legal matters before taking any action.